Exciting News from the 2019 AHS National Meeting
On behalf of all Region One members, I'd like to congratulate Karol Emmerich (Springwood Gardens, MN) on being awarded the 2019 Bertrand Farr Silver Medal. Established in 1950 and named for an early daylily nurseryman, this medal is a distinquished honor for members who have attained outstanding results in the field of daylily hybridizing.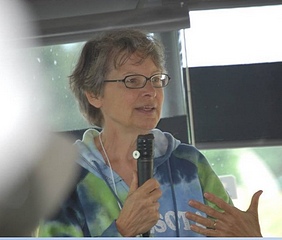 Karol Emmerich (photo courtesy of Brenda Macy)


"Fireworks in the Gardens" in 2019
The 2019 AHS Region One Meeting, organized by members of the Nebraska Daylily Society (NDS) took place on July 5-7th, in Omaha, Nebraska. Guest speakers were hybridizers Charles and Heidi Douglas of Browns Ferry Gardens of Georgetown, SC. Close to 100 daylily enthusiasts attended the meeting, and four large tour gardens and five lovely open gardens were visited. Three tour gardens and all of the open gardens belonged to hybridizers, so in addition to seeing the latest and greatest well-known daylilies, attendees met several "new to you" daylily introductions and seedlings from metro-area hybridizers. To supplement all the beautiful daylilies in the four tour gardens, NDS gave each tour garden funds to purchase a collection of daylily club plants from the hybridizer of their choice (to be auctioned off during a future NDS meeting). The meeting was a huge success. More information about the event as well as photos will be posted in the next few days. Many thanks and congratulations to the NDS organizers!


Region One now has its Own Blog
Many thanks go to Mary Baker (NDS) for setting up a Region One blogsite. This site, which can be accessed by clicking here, could be used by Region One members for many purposes, including publicizing regional and club meetings, sharing information about daylily cultivars, hybridizing and cultivation, and attracting new members to our clubs. Since her first blog in August 2018, Mary provided the latest information about "Fireworks in the Gardens", our 2019 Summer Regional Meeting that was held on July 5-7th. Pay a visit to the blogsite and tell us what you're thinking!


The NDSU Historic Daylily Display Garden Needs Your Help!
Greetings from North Dakota! I am Lisa Schmidt from the Central North Dakota Daylily Society and am writing to request your help. I am working with Barb Laschkewitsch from NDSU, who took over the care of the NDSU Historic Daylily Display Garden in Fargo after Bryce Farnsworth passed away last year. We are hoping your clubs can help find some historic daylilies for this garden, as many have been lost over the years. Barb has all these nice display labels that could be reused if we could find the plants. This is being done in preparation for Bryce Farnsworth's memorial which will be held on September 5th, 2019, at the Garden. We are inviting all of you to attend this memorial and view the gardens, as they also have test gardens for other annuals and perennials which are very nice viewing.

Click here to access a list of the plants we are looking for. If you would like to donate one or more of these missing plants for the Historic Garden, please contact me or Barb.

Lisa Schmidt contact info: LisaSchmidt51@gmail.com (email) or phone: 701-595-3263

Barb Laschkewitsch contact info: barbara.laschkewitsc@ndsu.edu (email) or phone: 701-231-7484

If you are interested to view the 2018 list of daylilies currently at the Historic Garden, please click here.

Thank you for all your help with this matter. Happy Gardening! Lisa


Pollen Dabbers 2019 to be held in September
Please mark your calendars! The Central Iowa Daylily Society (CIDS) will hold Pollen Dabbers 2019 on September 13th (5 pm - 9 pm) and September 14th (8 am - 5 pm). More details will be posted here as soon as they become available.

The Daylily Community Loses CVIDS Charter Member Gerald Hobbs
It is with the utmost sadness that I must inform you that our good friend Gerald Hobbs passed away on May 18th, 2019, at the age of 90. On May 21st, the Hobbs family met with friends at the King-Lynk Funeral Home and Crematory, where a Celebration of Life was held. Gerald was buried in Oakland Cemetery. His obituary can be accessed here. A memorial has been established in his memory, and online condolences may be left at: www.kinglynk.com.

In recent years, daylily cultivation played a major part in Gerald's life. He was a charter member of the Cedar Valley Iris & Daylily Society, which he helped found in 1990. Gerald will be greatly missed not only by CVIDS members but also by daylily enthusiasts in the Midwest and nationwide. He was a prolific and gifted daylily hybridizer, registering over 50 new varieties that can be viewed at the American Hemerocallis Daylily Database. A wonderful and kind gentleman, Gerald was always happy to share his expertise with others. On behalf of CVIDS, I extend our sincere condolences to the Hobbs Family.
Invitation to Region One Hybridizers
The Cedar Valley Iris & Daylily Society will be hosting the 2020 Regional in Cedar Rapids, Iowa. We will have places to display registered guest plants and also seedlings being considered for Junior Citation awards. We would be delighted to display your plants. The gardens available for displaying guest plants will be the gardens of Shelly & Darrin Lett and Sue & Dave Kramer. For those of you who would like to have your introductions and seedlings on display for the 2020 Regional, we would like to receive the plants this spring so they will be well established for the 2020 bloom season. Please contact Sue Kramer if you are planning to participate. Her contact information is: 319-396-3429, E-mail: iowala@aol.com. Thank you!

Region One Clubs' 2019 Meeting Schedules
If you would like to know what the various clubs in Region One have scheduled this year, click on the boxes below:


NDS Releases Vol. XXXIII of its Annual Yearbooks
To help you get through the arctic cold that is currently gripping the Midwest, how about thumbing through a book full of beautiful daylily photos and learning what one of our Region One clubs has been up to recently? Every January for many years now, the Nebraska Daylily Society has been assembling a yearbook that includes club news from the previous year, the club calendar for the current year, and lots of helpful articles and useful information. NDS is pleased to make the 2019 edition available to you all. Click here to enjoy it! Many congratulations, NDS members, on another fabulous edition.

'Entwined in the Vine' Receives Stout Silver Medal
As 2018 came to a close, it was exciting to learn that 'Entwined in the Vine', created by Karol Emmerich (Springwood Gardens, MN), had been awarded the 2018 Stout Silver Medal, the highest honor a cultivar can receive. Karol also received an Honorable Mention for her introductions 'Wrestling With Angels' and 'Overflowing Heart'. Many congratulations, Karol, we are delighted for you!

'Entwined in the Vine' (photo courtesy of Kathleen Nordstrom)
New Region One Officers & Liaisons
In late October 2018, the positions of Historian and Science Liaison were assumed by Kathy Larson and Keith Riewerts, respectively. We thank them for accepting to undertake these roles in our Society and wish them every success.


Remembering Bryce Farnsworth by Mary Baker
My good friend Bryce Farnsworth of Fargo, North Dakota passed away during the evening on September 13, 2018, after a sudden and unexpected heart attack. Bryce had been suffering from pneumonia, and had been in and out of the hospital this summer, but was feeling better.
| | |
| --- | --- |
| | |
| Bryce Farnsworth (photo courtesy of Debbie Monbeck) | Bryce standing by sign for NDSU's public AHS Historic Daylily Display Garden (photo courtesy of Joan Zettel) |
I first met Bryce during my first term as Region One's Vice President (RVP) in 2000 or 2001. Bryce was a daylily advocate. He was passionate about North Dakota State University's historic daylily, iris, and other plant collections in Fargo. He contacted me to save NDSU's historic and modern daylily collection, iris collection, AAS and other display gardens from demolition (the entire area was to become a parking lot for the new College of Business Administration building).
Bryce and I teamed up with NDSU's Barb Laschkewisch; Karen Schock, President of the new Central North Dakota Daylily Society; and the late Janice Dehod, President of the new Canadian Prairie Daylily Society in Winnipeg, Manitoba, Canada. We all met in Fargo with NDSU President Dr. Joseph Chapman and Vice President and College of Agriculture Dean Pat Jensen to explain the value of the AHS Display Garden's historical collection with its rare cultivars and attempt to save the historic and modern daylily, iris, and other plant collections and keep them accessible. Our efforts were successful. We made such a good impression that Dr. Chapman canceled the rest of his meetings for that day and led us on an impromptu campus tour. More meetings of a happier nature (planning meetings) followed. Dr. Chapman created a brand-new alternate campus entrance with much larger space where all the gardens were relocated.
NDSU's historic daylily collection became the very first public AHS Historic Daylily Display Garden. Bryce served as the liaison for NDSU's Historic Daylily Display Garden and modern Daylily Display Garden until his death, plus his personal garden was also an AHS Display Garden. Bryce loved to collect daylilies and donated many historic and modern daylilies to NDSU. Bryce also hybridized daylilies. He was a mentor to newbies, and welcomed them to the daylily world. I was honored to name one of my best daylilies, 'Bryce Farnsworth' (2013, tet) after him. The pod parent of 'Bryce Farnsworth' happens to be named 'Fargo' (Oscie Whatley/Mary Baker, 2009, tet). To read more about Bryce and NDSU's gardens, click the links to articles about them on the AHS Region One website http://www.ahsregion1.org/R1-NDSU2.html.
Bryce worked with potato breeding at NDSU. He worked hard for many years in all kinds of bad weather planting potatoes throughout NDSU's various potato fields throughout North Dakota as well as harvesting them. He also pollinated potato blooms in NDSU's greenhouse, and tasted potatoes for NDSU. Despite all the potato taste tests, he never got sick of them. Bryce knew all there was to know about potatoes--and then some. Bryce designed and created floral displays for NDSU's Harvest Bowls and other events.
Bryce's work at NDSU was recognized by many. On Friday, October 24, 2003, Bryce received the prestigious Prairie Garden Award for Excellence for 2003. Presented by the Prairie Garden Committee, this award is for excellence in horticulture. Bryce was the fourth person to receive the Prairie Garden Award for Excellence and he is the first non-Canadian award recipient. Bryce received this award during a ceremony at Assiniboine Park in Winnipeg, Manitoba.
In addition to all of Bryce's work with the daylily and other gardens at NDSU, Bryce served AHS Region One in many capacities. He first became an AHS Garden Judge in 2005, and served as a Garden Judge since then. Bryce became AHS Region One Historian from 2002 and remained in that position until his death. He faithfully attended annual regional meetings until 2018, when hospitalization with pneumonia forced him to cancel. He donated many daylilies to several regional meeting auctions, regional Internet auctions, and regional mail auctions over the years. Bryce also donated daylilies to new daylily clubs within Region One to get them started, and he donated daylilies to several club bargain sale tables.
Bryce was a close friend, intelligent, with a heart of gold and a wonderful sense of humor. We often spoke on the phone, and each year he and I were bus mates during AHS Region One meetings. I just talked to him a couple of days before he passed away. Oh, how I will miss him!
| | |
| --- | --- |
| | 'BRYCE FARNSWORTH' (Mary Baker, 2013, tet). Parents are 'Fargo' X 'Alicia Rose Kissed'. |
Bryce's funeral took place on Thursday, September 20th, at Our Savior's Lutheran Church in McHenry, ND. Five members from Region One attended. Bryce's obituary can be accessed here. Visit our Region One blog to find notes written by Mary Baker after Bryce's funeral.

How Did NDSU's AHS Display Garden Get Started?
Region One is proud to have within its boundaries a modern and historic AHS daylily Display Garden on the campus of North Dakota State University in Fargo, ND. How this garden came into being is a fascinating story that is told in two articles authored by Mary Baker (Region One Historic Daylily Garden Liaison), Karen Schock (former Central North Dakota Daylily Society President), and Janice Dehod (Canadian Prairie Daylily Society President, Manitoba). Click here to access those articles.